His Dark Materials, Chapter 4, was too dark for a thirst ranking. HOWEVER
Newsletterer's Note: If you're not watching His Dark Materials, I want to say I see you not smashing that unsubscribe button, and I appreciate you. I promise MalonEmail will return to its regular programming soon.
Okay, so this episode, "Lost Boy," featured child murder. Felt a little weird to do a proper ranking, so I shan't!
That said, there is something we need to discuss. Yes, it is Farder Coram. James Cosmo has been running circles every other actor in this series (save perhaps Bad Mommy Ruth Wilson) with his portrayal of the Gyptian patriarch. The whole thing has been the opposite of what I'd expected; I'd originally side-eyed the idea of this Game of Thrones old white legacy actor in the role of the old man described as being the eldest Gyptian by far, with a "skull-like face" and walking with a cane and constantly "trembling as if with an ague."
Little did I know that this guy would spend 50% of his screen time ruthlessly picking at emotional scabs, crying openly about the death of his son and star-crossed breakup with the love of his life. Little did I know that he would comprise one half of a dynamite relationship dynamic that bucks almost every archetype on TV or film these days. (Before you argue: he's not a softboi! He has legitimate reasons to be sad and doesn't—can't—hold Serafina Pekkala's emotions hostage for her attention!) Is Farder Coram the dark horse pick for HDM Thirst Trap champion??? It's looking likely.
As I put it in my recap this week (*cracks knuckles* lemme flex and quote myself here real quick):
You can tell [Coram and Serafina] never went to couples therapy (let alone individual), because she made Coram cry within minutes of her arrival.

They immediately settle into what feels like a very familiar script: He's embarrassed about how old he looks; she reminds him that she's 300 "or more." (Do witches just … stop counting at 300?) He urges her to stay, this time to help rescue children from evil. She explains that Asriel is right and of course the witches have known about the multiverse for millennia; surely we talked about this when our son died and we were both ravaged by our conflicting griefs? I'm all in favor of boundaries, and intellectually I do love this archetypal dynamic — the stoic, quasi-immortal witch and the aging, unabashedly heartbroken man — but in the moment, I just want to yell at Serafina Pekkala for giving such an emotionally unavailable response to Coram's entreaty and then bouncing.
At first I was mildly troubled by this development: isn't James Cosmo a bit too seasoned to be coming up so hot on the heels of Ariyon Bakare and Ruth Wilson in this horny race that I made up for absolutely zero reason other than I mostly write tech marketing content now and need to be inappropriate somewhere? I don't know, but my inquietudes were soon placated, to my surprise, when my friend Tiana (who makes amazing ceramic art, by the way) posted this photo: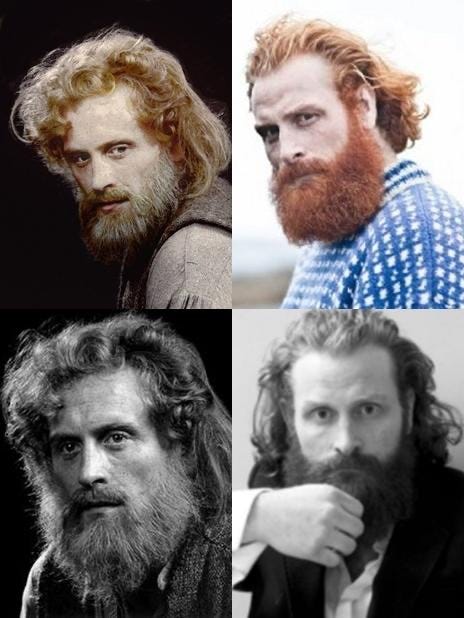 So. Yeah. I guess it makes sense now. And unfortunately this means I must now begin another campaign: Hollywood Gods, Please Bestow Upon Us a James Cosmo x Kristofer Hivju (AKA Game of Thrones's Tormund Giantsbane) Father/Son Drama and/or Romcom. No rest for the wicked(ly thirsty), I suppose. Carry on, James Cosmo.
P.S. (Parting Shot! For old time's sake!):
Over the past couple weeks since I rolled out this revamped MalonEmail, a few of you have actually become paid subscribers?? I know there are so, SO many newsletters out there—many of them vastly more substantial than this silly bonus feature—so thank you so much, from the bottom of my heart. I'm verklempt. Really! I did cry about it a little!